To provide opportunities for local visual artists to promote their work and cultivate public appreciation for the visual arts.
The Visual Arts Guild of Frisco is a volunteer non-profit 501(c )(3) organization dedicated to promoting the visual arts and educating the public. Founded in 2001, VAGF has grown to become a vital part of the local arts community. Each year we host numerous art exhibits, workshops and educational lectures for our members and the public.
Please join us for our Art Awards Reception Oct 24th 7pm-8:30pm at the Frisco Discovery Center located at: 8004 Dallas Pkwy, Frisco, TX 75034 Light
Learn More »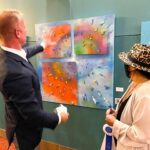 March 21st 6:30pm – Exhibit and Artists Reception Frisco Discovery Center
Learn More »

Visual Arts Gallery of Frisco Gallery
Check out some exciting VAGF images below. Compiled is a gallery of our shows, events and members.