VISUAL ARTS GUILD OF FRISCO
Art POP-UP in Dallas
A unique opportunity to partner with a Dallas Art Gallery – Blue Dragon Fine Art and a Distillery – New Artisan Spirits (ROXOR) for the first VAGF Art POP-UP of what we hope to be many opportunities for VAGF Member-Artists.  Simply submit your two pieces that you choose to showcase and signup to volunteer at the event at no cost.  OPEN to the PUBLIC at no charge!   Distillery / Venue Address:  8202 Chancellor Row, Dallas, TX 75247
Catered snacks and refreshments will be served and the event will run from 1pm-5pm Sunday May 22 (Volunteer Artist on display will need to plan for 12pm – 6pm for set up and teardown)
All submitted works should be ready-to-hang with wire taut at the upper fourth of the frame. Saw hook hanging will not be accepted. All works on 1/2" – 1″ canvases should be framed. All the works on 1 1/2″ to 2" canvases need to have neatly painted edges if not framed.
Due to space limitations, art pieces cannot exceed 36 inches in width and 48 inches in height.
Submit your artworks as JPEG for consideration by May 9, 2022.
** Please email all inquiries and your artwork pieces for review for acceptance to info@vagf.org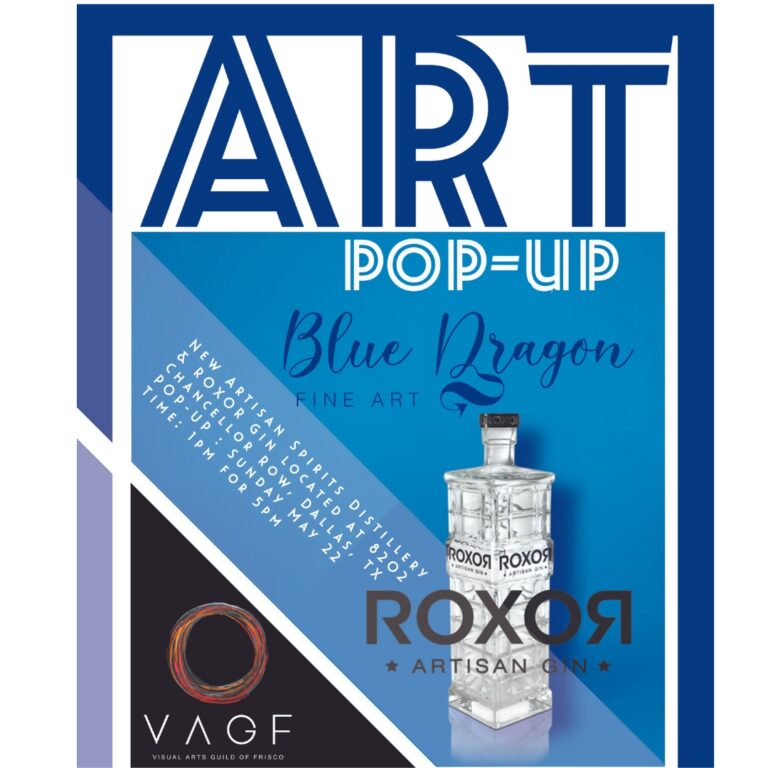 Artrageous is an open theme show, and it will be displayed at the Frisco Discovery Center from May 31st to June 25th. 
Reception will be held on June 12th, at 6:30pm, so save that date!
To submit go to the Smarter Entry website: https://www.smarterentry.com/CallsForEntry/vagf by May 13th; acceptance should follow a few days thereafter.
VAGF members receive the benefit of reduced submission fee for this show – use code: ARTRAGEOUS22
Be sure to go over to our web site (vagf.org) and click "Join" to renew your membership.
Reach out to us at info@vagf.org if you have any questions.
       Artrageous Juror Panel
Main Juror: 
Abigail Rust, Art Collection Curator – Hall Group
Special Juror:
Barbara Milo, Director of Experience – Hall Park