VISUAL ARTS GUILD OF FRISCO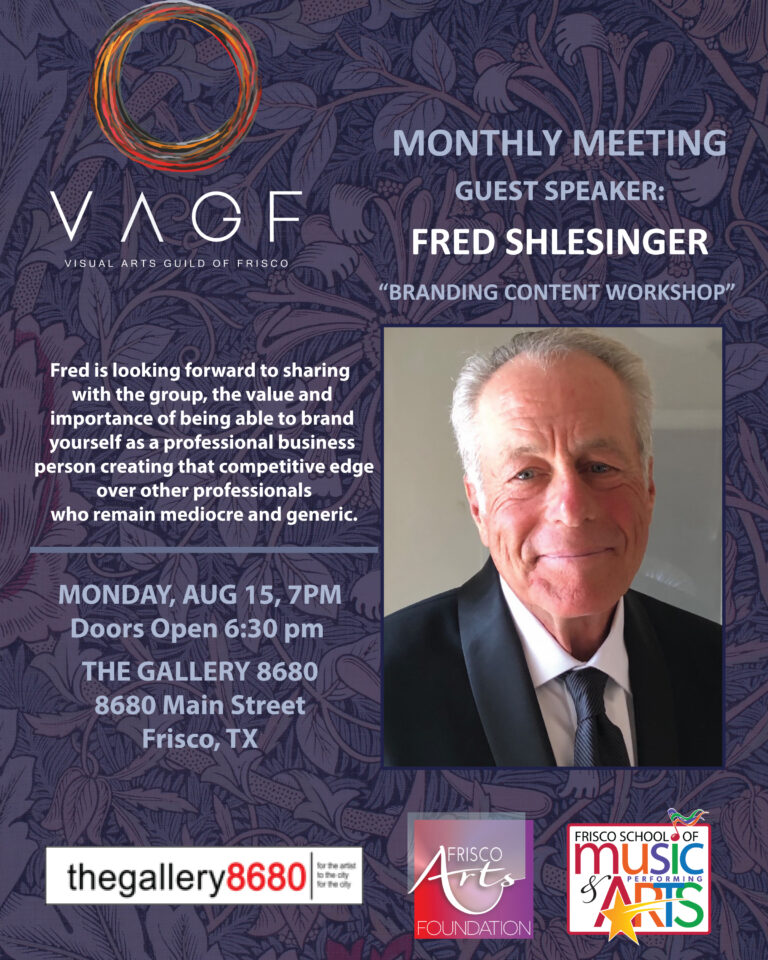 VAGF Monthly Meeting –  Fred Shelsinger
August 15th 7p – 9p at the Gallery 8680 Frisco, TX (doors open at 6:30pm)
Guest Speaker: Dynamic presenter, Fred Shlesinger, is a Renaissance man with a diverse background and varied interests that allow him to relate to both large and small audiences on a variety of topics.
As a highly successful Financial Advisor, Coach, Educator, and Public Speaker, he devotes a great deal of his time helping business owners and individuals in their education for greater personal financial and business efficacy.
Fred is looking forward to sharing with the group, the value and importance of being able to brand yourself as a professional business person creating that competitive edge over other professionals who remain mediocre and generic.
You can reach out to Fred via e-mail at shlesinger@icloud.com.
Refreshments will be served and artist network will be fun!
**Member-Artists: Please bring your favorite artwork you created for voting Artist of the Month**
No Entry Fee for Members 
$10 Donation to VAGF for Guests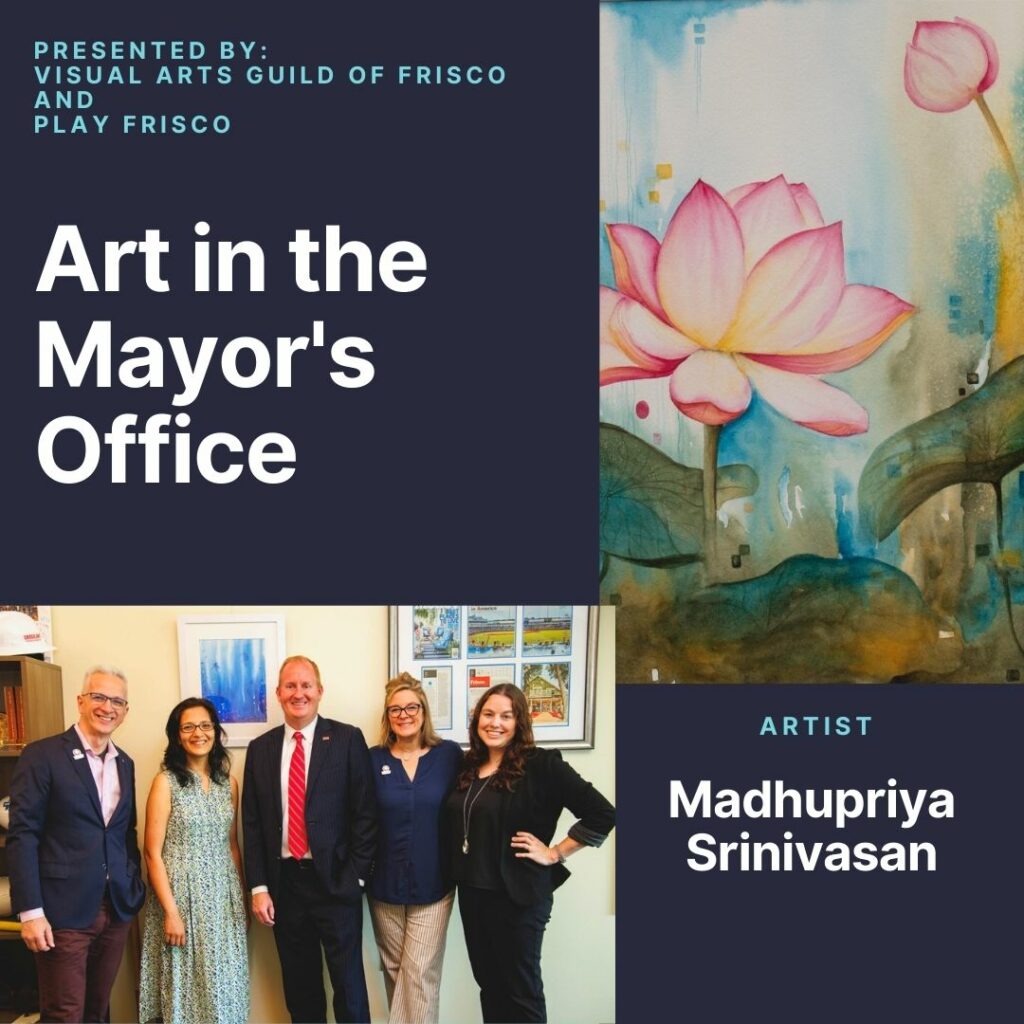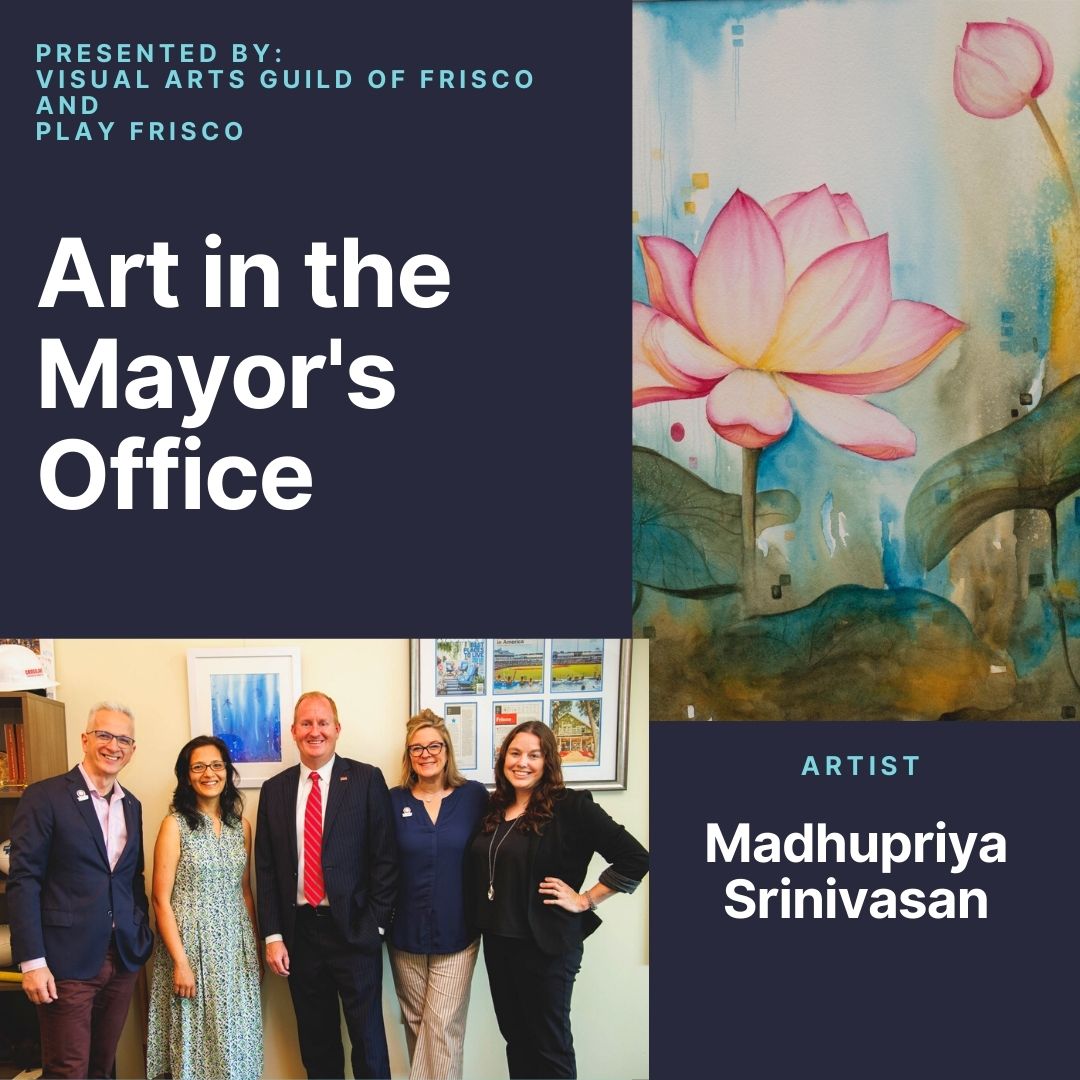 Art in the Mayor's Office –  Madhupriya Srinivasan
"Calming and Empowering Art Inspired by Nature and Life…"

We are so proud of our member Madhupriya Srinivasan for being selected as the featured artist in our Art in the Mayor's office program, created in partnership with Play Frisco – Frisco Parks & Recreation and Mayor Jeff Cheney.

Congratulations, Madhu!
Pictured left to right:  VAGF President – Suad Bejtović, VAGF Member Artist – Madhupriya Srinivasan, City of Frisco Mayor – Jeff Cheney, VAGF Director of Finance – Jennifer Luney, Cultural Affairs Division Manager at the City of Frisco – Michelle Norris
Visual Arts Guild of Frisco News