VISUAL ARTS GUILD OF FRISCO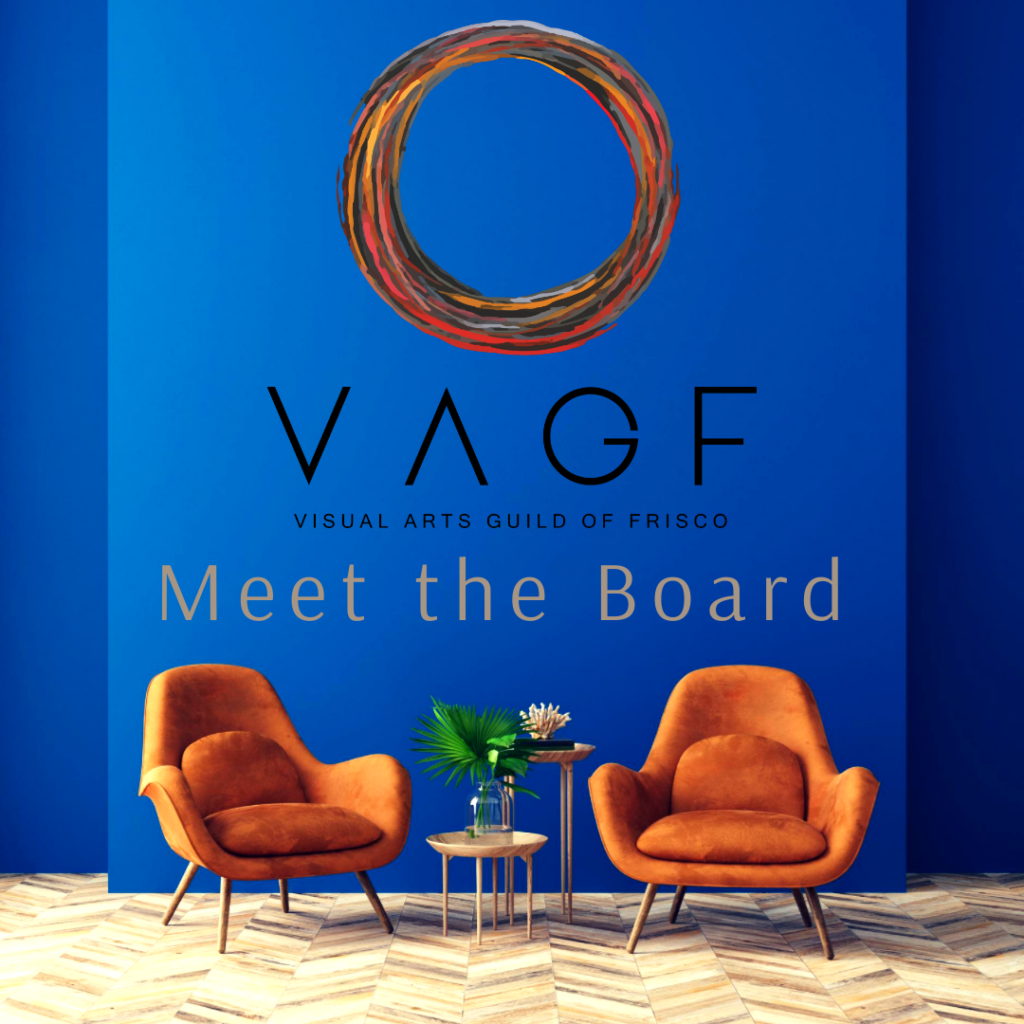 Visual Arts Guild of Frisco is hosting our monthly membership meeting October 17th at the Gallery 8680. Doors open at 6:30, meeting starts at 7pm.  Refreshments will be served…
** Our VAGF Member-Artists are encouraged to bring a small-to-medium piece of their original art for Artist of the Month judging. **
The meeting is FREE for members, while guests are encouraged to make a $10 donation at the door.
Mark your calendars for a fun night of behind the scenes with the VAGF Board of Directors. Ice Breaker, Spotlights, Q&A too! "Meet the Board"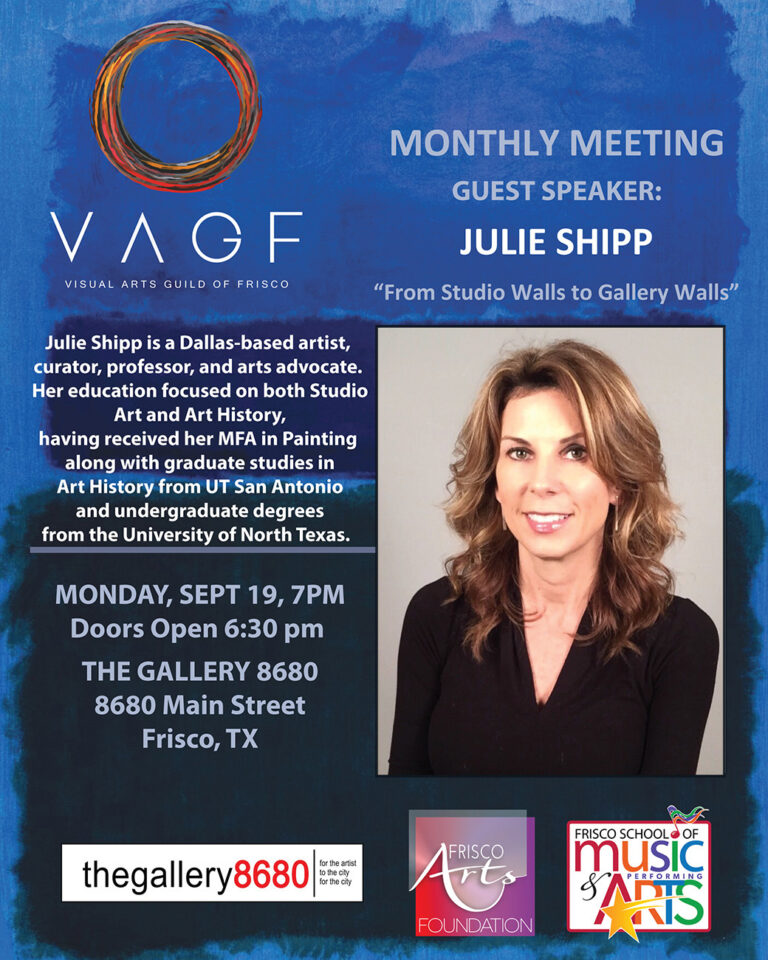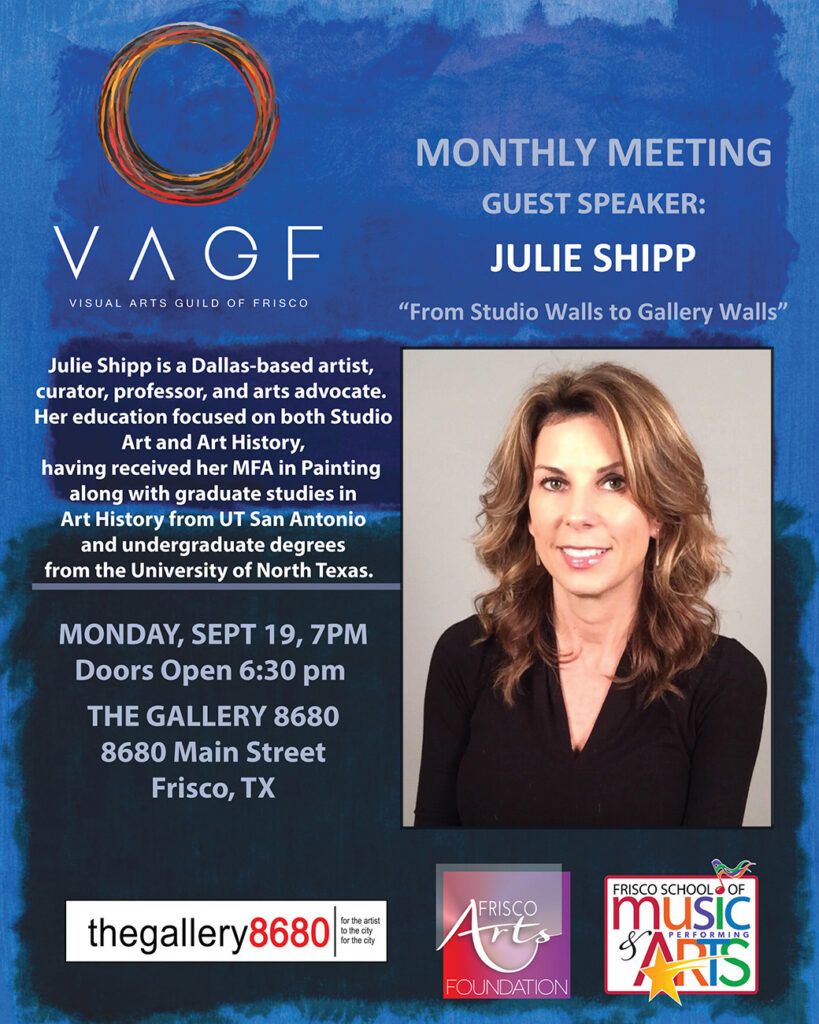 VAGF Monthly Meeting –  Julie Shipp
September 19th 
7pm – 9pm at the Gallery 8680 Frisco, TX
(doors open at 6:30pm)
Guest Speaker:  Julie Shipp
Refreshments will be served and artist network will be fun!
**Member-Artists: Please bring your favorite artwork you created for voting Artist of the Month**
No Entry Fee for Members 
$10 Donation to VAGF for Guests
"From Studio Walls to Gallery Walls"
We are so excited to have @julieannshipp with @collincollege Art Gallery join us as this VAGF month's speaker. We hope to see you at @thegallery8680
Julie Shipp is a Dallas-based artist, curator, professor, and arts advocate. Her education focused on both Studio Art and Art History, having received her MFA in Painting along with graduate studies in Art History from UT San Antonio and undergraduate degrees (Art History, 2000 and Studio Art, 2001) from the University of North Texas.
As a Professor of Art and a Gallery Director, she pursues the language of art from a perspective that visual communication should allow us to reflect upon our humanity, but also challenge viewers to examine and redefine the world that surrounds us. Recent research includes studies of political murals and a re-discovered fresco painting in Argentina, Ancient History and Artwork in Israel, and contemporary art in Portugal. For more info please see our Facebook Page.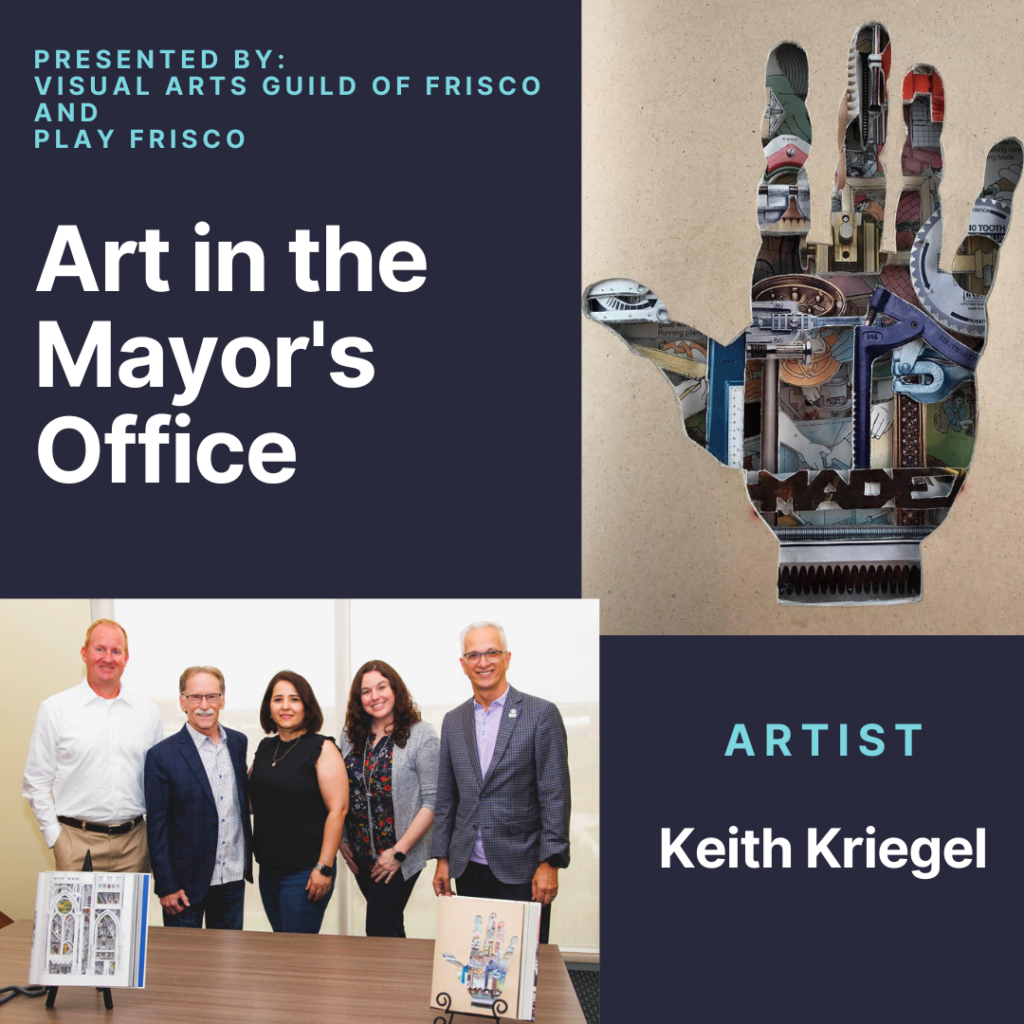 Art in the Mayor's Office – Keith Kriegel
Book Carver / Sculptor
We are so proud of our member Keith Kriegel for being selected as the featured artist in our Art in the Mayor's office program, created in partnership with Play Frisco – Frisco Parks & Recreation and Mayor Jeff Cheney. As part of our successful ongoing partnership with the City of Frisco Public Art Program, we're thrilled to offer one VAGF member the opportunity to display their artwork in the Mayor's office at City Hall via quarterly submission process!
Pictured left to right: City of Frisco Mayor – Jeff Cheney, VAGF Member Artisit – Keith Kriegel, VAGF Director of Community Outreach, Cultural Affairs Division Manager at the City of Frisco – Michelle Norris VAGF President – Suad Bejtović